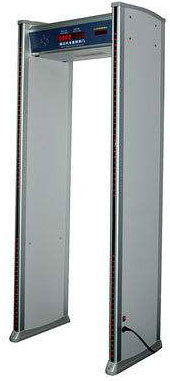 TCM-RD
Technical parameters:
1. Alarm function
(1) The alarm tone can be adjusted, and the maximum sound intensity is 89.3db, which can clearly distinguish the alarms of two adjacent detection doors
(2) Intelligent zone alarm indicator light, the alarm display color is red, in the bright environment of 6000lx and the dark environment of 25lx, 3M away from the alarm display, it can be viewed clearly
(3) The alarm state can be restored automatically, and the alarm indication lasts ≤ 1.2s after the object leaves the detection area
2. Power supply application range: 187V~242V,47.5Hz~52.5Hz。
3. Magnetic induction intensity in the detection area: 30μT t at any point in the area formed by 150 mm in the left and right boundary directions
4. Dielectric strength: 1.35 kV, 1min without breakdown and repeated flashover
5. Anti interference ability: anti-error alarm, anti-leakage alarm, strong anti external interference ability.
6. Quick setting function of application place: 72 preset places are built in, sensitivity is distinguished through touch LCD screen customization, and automatic sleep function is customized.
7. After the equipment is started, no one or object passes through the security door within 2 minutes, and the equipment will automatically enter the sleep state. When someone or object passes, the detection function will be automatically turned on.
8. Internet management function: access the Internet through WiFi device or network cable, remote diagnosis and management settings through mobile app, and store and view the corresponding data in the cloud.
9. Insulation resistance: under normal conditions: > 500m Ω, damp heat: 76m Ω
10. Working time: continuous working for 8h
★ provide the test report issued by the national security alarm system product quality supervision and inspection center and the security alarm system product quality supervision and inspection and test center of the Ministry of public security, and the test basis: GB 15210-2003 general technical specification for passing metal detection door
HY-800
Technical parameters:
1. External dimension of vertical installation: 2230×580x850mm
2. Dimension of vertical channel: 2000x700mm
3. Package size of main box: 755 × 340 × 210mm
4. Package size of detection door panel: 2290 × 630x180mm
5. net weight of detection door plate: 59.1KG
6. Gross weight of detection door plate: 66.1kg
Characteristic:
1. Ultra high sensitivity, able to detect extremely small metal objects
2. Accurate detection of magnetic, non-magnetic and mixed metals
3. Multi location detection technology to accurately locate and hide contraband
4. Cross magnetic field, strong object shape recognition force, high passing rate
5. Multi working frequency band selection function to automatically avoid surrounding electromagnetic interference
6. Automatic overall sensitivity adjustment and automatic foot position sensitivity adjustment function
7. High strength material door body, impact resistance, invisible change
8. IP55 can be used indoors and outdoors
9. Super wide channel design, channel size up to 700mm
Executive standard: GB 15210-2003 general technical specification for passing metal detection door.

---
Contact Us




Copyright©2023 Jiangsu Redon Police Equipment Manufacturing Co., Ltd Powered by: www.300.cn
Copyright©2023 Jiangsu Redon Police Equipment Manufacturing Co., Ltd
Powered by: www.300.cn