RD-HD300
Parameter configuration and performance description:
The drug detector is a high-tech instrument which is suitable for the police, customs, border defense and other anti drug departments to investigate and deal with the use of parcels, luggage and other drugs.
Technical features:
1. Based on IMS Technology and pseudo-random sequence ion opening technology, it has high sensitivity;
2. Fast analysis;
3. Suction and test paper sampling;
4. Circulation suction device, high sampling efficiency;
5. The sample library and application can be upgraded;
6. It has sound and visual alarm functions;
7. Through the network port and USB port, the supporting software can be used for data backup and update;
8. EPA exemption certification;
9. Color display, easy to operate;
10. Basic structure: the detector is mainly composed of the sonnse xt12-03, equipped with an accessory including a power adapter, a sampling pen, a calibrator and several sampling test papers.
Technical parameters:
1. Technology adopted: ion mobility spectrum technology and pseudo-random sequence ion opening technology
2. Detection types: heroin, marijuana, cocaine, ecstasy, virus, methamphetamine and other drugs, and new samples can be added at any time as needed;
3. Sensitivity: 10 [sup] - 10 [/ sup] g
4. Sampling method: suction and test paper (with special sampling pen)
5. Power supply: AC 220V or lithium battery
6. Battery parameters: 16.8v/13ah, which can work continuously for no less than 3 hours;
7. Power adapter: input 220V, support online charging and battery independent charging;
8. Green environmental protection: EPA exemption certification
9. Analysis time: 4-10 seconds
10. Preheating time: less than 15 minutes
11. Alarm mode: audio + display information
12. Calibration method: manual calibration
13. Boundary dimension: 435 × 133 × 210 (mm)
14. Weight: 4.6kg (including 1.4kg battery)
15. Working environment: working temperature range - 20 ℃ ~ 50 ℃, relative humidity < 99%;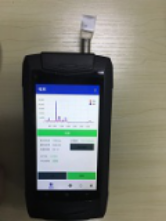 RD-LMGPY02
Parameter configuration and performance description:
1. The portable Raman spectrometer is a special security inspection instrument for anti-terrorism, anti drug and epidemic prevention of Xing detective. It is used for the detection of various forms of explosives, drugs, precursor chemicals, alcohol and psychotropic drugs. The equipment adopts the most advanced laser Raman spectrum analysis method, which integrates sampling, detection, spectrum scanning processing, database search, similarity comparison and recognition. It is easy and fast to operate, and can be automatically calibrated when the machine is turned on.
The portable Raman spectrometer is small in volume, light in weight, easy to carry, simple in operation, and can accurately detect and analyze the material components.
1 one bond detection and recognition by Raman spectroscopy
2. Built in more than 200 kinds of targeted contraband databases
3. Cloud platform computing and storage, which can subsequently realize large-scale data mining and Computing
4. The system has built-in GPS, GPRS, Bluetooth, Wi Fi and other communication modes
5 and 5.6 inch capacitive HD display, friendly human-machine interface
6. Built in VT and other high-end Raman spectrum processing algorithms, similarity and peak seeking, reverse correlation and other recognition algorithms
7. Realize full independent domestic R & D and production at component level
8 IP65 industrial grade waterproof
9. Rechargeable lithium battery life > 5hr
types of detectable substances
2. Most drugs, such as heroin / morphine, cocaine, papaverine, etc
3. Most drug precursors, such as acetone, toluene, etc
4. Most commercial and military explosives, such as TNT, Jo, C4, tntb, nitrocotton, nitroguanidine, etc
5. The vast majority of commonly used drugs, such as cephalosporin, amoxicillin, cilnidazole, ofloxacin, acarubin powder, (headache powder), etc.
Physical parameters
1. Overall dimension: 180 * 95 * 38mm
2. Total weight: < 800g
3 input interface: Micro USB
Performance parameters
1 spectrum range: 200 cm-1 ~ 3200 cm-1
2 wavelength resolution: 15cm-1 @ 1000 cm-1
3 excitation wavelength: 785 ± 0.5nm, linewidth < 0.1nm
4 laser life: 10000.00hrs
5 power supply voltage: DC5V electric adapter
6. Output power: 0 ~ 500MW adaptive
7. Integration time: 1ms-10s self applicable
8. Probe Rayleigh scattering cutoff depth: od6
9 working focus of probe: 7.5mm
10 camera: 8 million pixels
11. Touch screen: 720 * 1280 resolution capacitance screen
12. Three prevention standard: IP65
13 network: 4G / WiFi / Bluetooth / GPS
Environmental parameters
1. Working temperature: 0 ~ 45 ℃
2 working humidity: 5% - 80%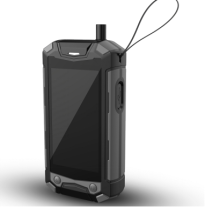 RD-LMGPY01
Parameter configuration and performance description:
1. Criminal detection: on-site detection of contraband and drugs
2. Drugs: drug analysis and identification, raw and auxiliary materials on site, rapid analysis
3. Jewelry / ore: on site identification of minerals and Gemstones
4. Material: material analysis
Physical parameters of technical indexes
1. Overall size 160 * 222 * 74mm
2. Total weight: 2.3kg
Performance parameters
1. Spectral range 200-3900cm-1
2 resolution 8-10cm-1
3 laser wavelength 785nm
4 detector high sensitive CCD detector
5. Laser power 0-500nw adjustable
6. Display 5.6-inch HD color touch screen
7 service life 10000,00hrs
8. Integration time 7.2ms-5s
9 working focal length of probe: 10 mm
10 USB import and export of data
11 power supply 12V / 3A power adapter
12. Battery rechargeable lithium battery life > 5hr
Environmental parameters
1 working / storage temperature 0-45 ℃
2 working / storage humidity 5% - 80%
3 types of detectable substances
4 most drugs, such as heroin / morphine, cocaine, papaverine, etc
5. Most drug precursors, such as acetone, toluene, etc
6 most commercial and military explosives, such as TNT, Jo, C4, tntb, nitrocotton, nitroguanidine, etc
7 most commonly used drugs, such as cephalosporin, amoxicillin, cilnidazole, ofloxacin, acarboxyl powder, headache powder, etc

---
Contact Us




Copyright©2023 Jiangsu Redon Police Equipment Manufacturing Co., Ltd Powered by: www.300.cn
Copyright©2023 Jiangsu Redon Police Equipment Manufacturing Co., Ltd
Powered by: www.300.cn