RD-YJ02-L
Technical parameter
1. Boundary dimension:
Closing: 780 * 380 * 12 mm (L * w * h) flat
Development: 780 * 380 * 1350mm (L * w * h) vertical ground (including the height of warning light)
2. Sign text: Police temporary inspection, traffic control, accidents ahead, no overtaking
3. Reflective night vision distance: ≥ 260m
4. Wind resistant performance: reflective, matrix perforated wind resistant design, temporary inspection warning signs can be placed in place to resist 17m / s wind.
5. Waterproof grade of warning light: I P 65
6. Weight: 10 kg (including the weight of warning light)
7. External auxiliary warning light: 315mm long x 80mm wide x 45mm thick
Material: aluminum lamp holder + polycarbonate lamp cover + 12 0.5W LED lamp beads, built-in rechargeable 4000ma lithium battery pack
Power: 2.4W, continuous working time: more than 50 hours;
Weight: 1.0kg
Warning distance: the visual distance can be more than 400m under the driving condition of 120 km / h.
Product features:
1. The outer frame is made of high-strength steel, which is not easy to deform and age, and is firm and durable;
2. The guide plate material shall be thickened aluminum plate and national standard reflective film, with good warning effect;
3. The two guide plates are individual and can be turned over freely and disassembled quickly;
4. Diversified combination to meet early warning requirements;
5. The product shall be placed stably and designed against wind;
6. High quality national standard reflective film is adopted, with clear warning and guidance contents, and the visual distance can reach 260 meters under the condition of 120 km / h driving speed;
7. The product portfolio is convenient, small and light. It can be easily put into the tail box of patrol car and survey car. It can be quickly deployed and folded to meet the requirements of rapid early warning.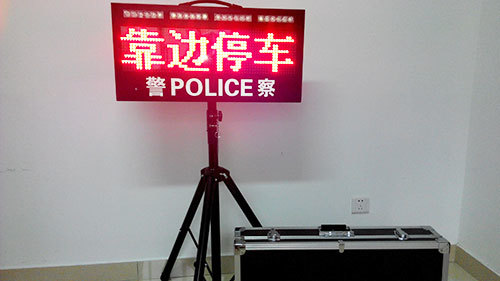 RD-P10-1
Screen parameters:
Screen size: 690 * 340 * 60MM
Weight: 9.0kg ± 0.5kg
Power supply: 1) internal high-quality 18650 lithium battery pack power supply
2) External AC 220V to DC 12V municipal power supply
3) Equipped with DC 12V to DC 5V on-board power supply
Current: 1.5 A / Max
Working temperature: - 10 ℃ - + 60 ℃
Charging time: 8-10 hours
Working time: more than 15 hours
Screen fixing mode: adjustable triangle support, with horizontal locking device, to ensure that the supporting screen equipment is windproof and does not swing left and right
Charger is required, which can be used for on-board and 220V mains chargin
Warning light parameters:
1) Basic color: red and blue
2) Light source form: high power and high brightness LED strobe
3) Service life: ≥ 100000 hours
4) Sight distance of warning light: ≥ 1000M
Technical parameters of LED module:
Module size (mm): 640 * 160
Pixel spacing (mm): 10 mm
Pixel density (point / m2): 1000
Pixel composition: 1R
Module resolution: 32 * 16
Maximum power (w / m2): 700
Average power (w / m2): 200-300
Brightness (CD / m2): ≥ 3500
Refresh frequency: 480HZ
IP protection grade: IP65
Viewing angle: the best viewing angle is 90-130 degrees horizontally, 30-45 degrees in elevation, and 10-20 degrees in depression
Visual distance of LED display: 200-350m
Brightness uniformity of display module: < 5%
Text entry method: U disk entry (you can change the characters according to your own needs)
Storage content: 200 messages (4 words can be displayed on each message)
Display effect: move left, right, up, still, etc
Brightness adjustment: 16 levels adjustable
Remote control function: turn the subtitle screen on / off and switch the subtitle information
Remote control distance: ≥ 10m
With manual control function
Pixel out of control rate: < 1 / 100000 (industry standard: < 1 / 10000)
Mean time between failures: > 10000 hours
Service life: > 100000 hours
Operating environment temperature: - 10 ℃ ~ + 60 ℃
Operating environment humidity: 10% - 90%
Tripod parameters:
Material: steel pipe surface black spray anti rust treatment + Red and white reflective film
Steel pipe parameters: main pipe diameter 34mm, wall thickness ≥ 1.5mm;
Main pipe diameter 38mm, wall thickness ≥ 1.2mm
Bottom support pipe diameter 35mm, wall thickness ≥ 2.0mm
Support mode: the tripod is equipped with lateral locking device to ensure that the support screen equipment is windproof and does not swing left and right
Minimum shrinkage height: 84mm ± 10 mm
Maximum extension height: 1560 mm ± 10 mm
Maximum opening angle size: 100mm ± 10 mm
Weight: 5.5kg ± 0.5kg
Carrying mode: shoulder back waterproof nylon cloth cover
Package parameters:
Size: 730mm × 410mm × 150 mm ± 10 mm
Material: aluminum alloy box
Weight: 5.5kg ± 0.5kg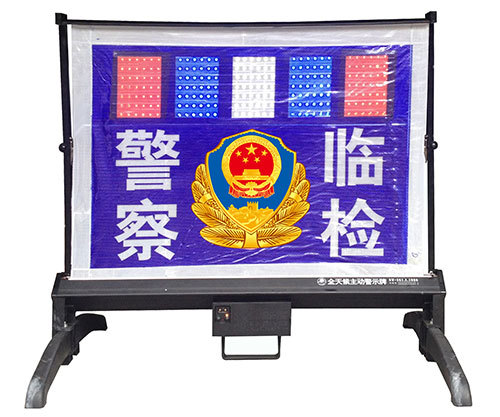 RD-P10-02
Technical parameter
Deployment specification: 100CM*100CM
Stand width: 90CM
Bag specification: 100*25*16CM
Dry cell: 12V/2200MA*10
LED: 100000 hours, red, blue and white
Visual distance: 500-600m
Power storage time: the battery operates continuously for more than 240h
Charging mode: vehicle lighter charging, mains charging
Reflective material: PVC lattice, high brightness LED
Performance: LED active warning, foldable, easy to carry, outstanding warning effect of bad climate, visual distance 400-1000m.

---
Contact Us




Copyright©2023 Jiangsu Redon Police Equipment Manufacturing Co., Ltd Powered by: www.300.cn
Copyright©2023 Jiangsu Redon Police Equipment Manufacturing Co., Ltd
Powered by: www.300.cn