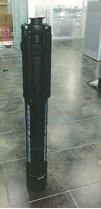 GR-SJF-1
Technical parameters:
1. It can be quickly unfolded or folded up within 1 minute; it can be used as a spotlight or panoramic lamp by retractable folding. Easy to carry and keep, with shoulder belt;
2. The output of highlight mode is not less than 20000 lumens, and the maximum irradiation distance is not less than 2000 meters, which can be used for long-distance search lighting;
3. The low light mode has a endurance of no less than 40 hours under 2000 lumens, which can be used for long-time police disposal site and night security of major occasions;
4. 360 ° panoramic lighting and 12 ° focused lighting are combined;
5. The deployment height of the system shall not be less than 3.5m, the storage length shall not be more than 1.4m, and the weight shall not be more than 30kg. The tripod is made of all carbon fiber.
6. Waterproof performance: no less than IPX7
7. The bottom of the base can be hoisted with wind sandbags to increase the stability in windy environment;
8. Yellow reflective strip on the bracket increases safety and visibility;
9. Rechargeable high polymer lithium-ion battery, 4 levels of brightness power supply;
★ 10. Provide the product testing report issued by the authoritative testing agency. Test basis: GB 16796-2009 safety requirements and test methods for security alarm equipment; Q / Jr 07-2016 gr-sjf-1 portable lifting floodlight (enterprise standard)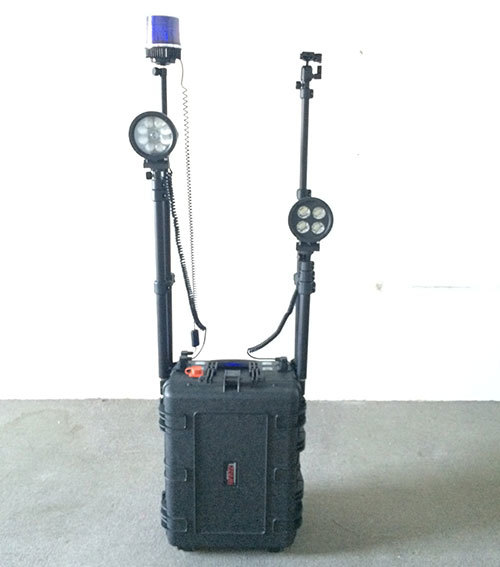 JG139 144W
Technical parameters:
1. Charger: 14.8V 4A
2. Battery type: 12V 33Ah
3. Lamp height (m): 2.01
4. Box size (mm): 670 * 510 * 372
5. Luminous flux (LM): 11000 / 5200 / 2400
6. Lighting time (H): 7 / 13 / 30
7. Charging time (H): 10
8. Power (W): 160
Product weight (kg): 26
Function introduction:
1. The box body is made of high-strength plastic and equipped with good waterproof technology to make the system wear-resistant, waterproof, dustproof, antistatic, impact resistant and corrosion resistant.
2. The lighting system can be disassembled and assembled simply and quickly, and put into the safe waterproof box for convenient carrying and transportation.
3. The battery which can be repeatedly recharged is used for power supply, without generator, energy saving, high efficiency, environmental protection and no noise.
4. The lamp is composed of high brightness LED lamp to ensure low energy consumption, high reliability and long service life of the system, reaching 100,000 hours.
5. The lamp has the functions of strong light, working light and weak light.
6. Stroboscopic function, convenient for "SOS" call rescue.

---
Contact Us




Copyright©2023 Jiangsu Redon Police Equipment Manufacturing Co., Ltd Powered by: www.300.cn
Copyright©2023 Jiangsu Redon Police Equipment Manufacturing Co., Ltd
Powered by: www.300.cn