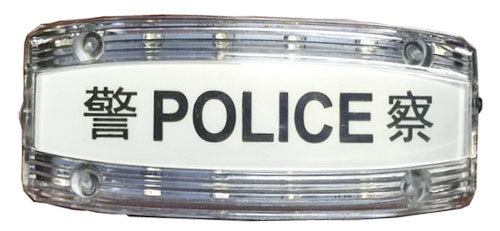 JD-RD
Technical parameters:
The shoulder lamp is composed of integrated circuit board, lithium battery, PC transparent cover plate, ABS base and shoulder clamp.
1. Mass: 38g;
2. Working mode: multi mode red and blue LED flash (front flash, back flash, front and back flash at the same time) and white light lighting.
3. Flashing frequency: 8.3Hz.
4. Power supply adaptability: when the power supply voltage changes within the range of dc3.6v ~ dc4.0v, it shall be able to work normally.
5. Working current: 45mA when flashing; 35mA when white light is illuminating.
6. Battery working time: after the battery is fully charged, the working time shall be ≥ 18 hours.
7. Enclosure protection grade: the enclosure protection shall meet the requirements of IP54 in gb4208-2008.
8. Visual distance: light can be observed by naked eye at 300m at night (it should be reflected in the test report).
9. Executive standard: in accordance with the relevant provisions of GB4208-2008 degrees of protection provided by enclosures.
10. Provide the inspection report issued by the national product quality supervision and inspection organization, including the bidding product.
RD-JD03
Technical parameter
1. Rated voltage: 4.0V
2. Flash frequency: 6Hz
3. Maximum pulse current: 80mA
4. Maximum working time of one charge: ≥ 20h
5. Working mode: stroboscopic, lighting
6. Flash color: red, blue
7. Visual distance: 500M
8. Installation method: metal clip
9. Operating environment: - 30 ℃ -- 50 ℃
10. Weight: 0.1kg
11. Operating instructions: press the switch for 2 seconds to start working, then press the switch for 2 seconds to flash working, and then press the switch again to turn off all working, etc. After charging, please press the switch to start the primary input circuit protection and then work, and insert the charger interface to activate
12. Boundary dimension: 70 * 47 * 39mm
13. Led warning shoulder light is a kind of safety warning light independently developed and developed by our company according to the market demand. It is easy to carry, small in size and light in weight. It uses high-capacity lithium battery and has a long time of charging. It can be used for both warning and lighting. It can be used for traffic duty, road traffic law enforcement officers, road transposers and pedestrians at night for road safety warning. Led achieves the stroboscopic effect through the digital module control, which plays a very obvious warning role, reminding the passing driver that there are staff at the flashing light place, driving carefully, so as to protect the safety of the wearer.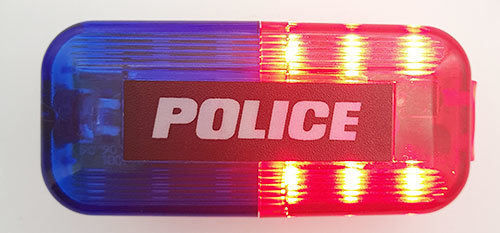 RD-JD02
Appearance color: red and blue
Power supply mode: built in lithium battery
Battery capacity: 3.7v/600mah
Charging interface: DC3.5, positive inside and negative outside
Continuous working time: > 12 hours
Flashing speed: 4-3-2-2 variable speed
Blinking mode: alternating red and blue, flashing together
Waterproof grade: IP65
Service temperature: - 20 ℃ - + 60 ℃
Boundary dimension: 85 * 37 * 32
Product weight: 120g
Fixing method: rotatable shoulder clamp
Other functions: Clap flash stop, lighting, low voltage mode
When the shoulder lamp is turned off, press the function button at one end of the shoulder lamp with your finger, and then flash, illuminate and turn off. Cycle in turn. At the same time, the direction of the lamp body can be rotated to warn pedestrians or vehicles in different directions.
In the flashing state, tap the shoulder lamp (lighting part) to make it switch in turn in the flashing and sleeping state. The stainless steel metal clip can rotate 360 degrees at will.

---
Contact Us




Copyright©2023 Jiangsu Redon Police Equipment Manufacturing Co., Ltd Powered by: www.300.cn
Copyright©2023 Jiangsu Redon Police Equipment Manufacturing Co., Ltd
Powered by: www.300.cn